Android is one of the most popular mobile computing operating systems and powers a diverse range of phones, including the low-end ones and the high-end flagship. But did you know you could install the whole Android operating system directly onto your computer?
There are a lot of reasons why someone would want to run an Android emulator on a PC. Developers might use it in order to test an app or game that they're working on.
If the user always plays the mobile game, the user might prefer to use a keyboard or mouse to play user's game instead of clumsily controlling the game with a mobile device that users are not used to yet.
SEAMLESS GAMING EXPERIENCE BETWEEN MOBILE AND GAMING NOTEBOOK
MSI reveals exciting upcoming software – the MSI APP Player software in Computex Taipei 2018! The MSI APP Player in exclusive collaboration with BlueStacks.
Bluestacks has been one of the most sought-after Android emulators thanks to its easy installation and the ability to accept third party apk's by double clicking on them.
↑Customized RGB hot key lighting for mobile games.(This feature only for the GT75/63, GS65/73/63, GE73/63 series.)
Mobile gamers can now enjoy games on MSI gaming notebooks for better performance, larger display, and more precise control with interactive RGB keyboard lighting.
Users no longer need a dedicated Android phone or tablet to experience the apps available in Google Play. MSI App Player makes it easy to run Android OS side by side with Window 10, so users can always access user's favorite mobile messaging apps, games and take advantage of user's larger monitor, hardware keyboard, and other peripherals.
Compared to other mobile game simulators, MSI App Player is the world's first to offer customized signature RGB keyboard lighting for popular mobile games including MOBA and FPS shooting games, and more genres to come.
BRING ANDROID APPS & GAMES TO MSI GAMING NOTEBOOK.
After setting up user's Google account, the user can use MSI APP Player to install an app or run a game.
Let me show the MSI APP Player software settings! The User can tailor the experience of using it to suit the user's own needs.
The user may customize the resolution and DPI by selecting "Resolution" in the Settings menu, to enhance your viewing and playing experiencing on MSI APP Player.
There are two graphics mode widely used by the app developers i.e. DirectX and OpenGL, therefore some apps which are compatible with either of the two modes.
If users are facing any app compatibility like app crash,flickering or graphics related issues like black screen, distorted graphics, patches, white screen etc. on any app, then please switch the Graphics Mode and see if this helps.
The user can allocate more memory and CPU cores to MSI APP Player for Experience smooth performance.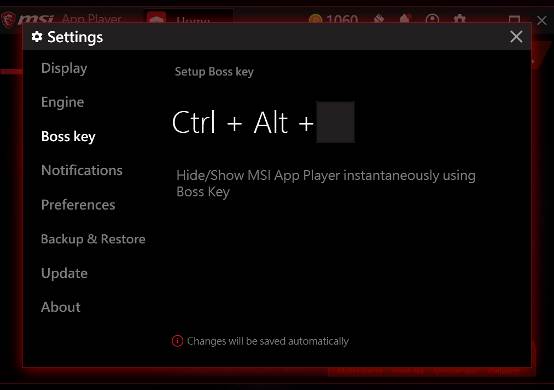 ↑Boss Key settings
The boss key lets user hide and show MSI APP Player instantaneously. The user may choose to keep this assigned key guarded in case users don't want anyone to see what's running on MSI APP Player.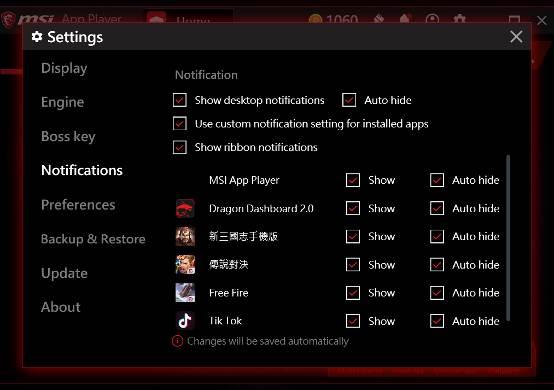 ↑This will let you manage notifications add desktop icons for installed apps on MSI APP Player.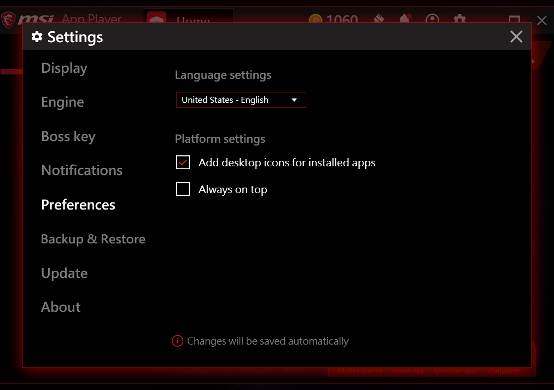 <br↑change app="" language="" msi="" of="" player.="" setting=""></br↑change>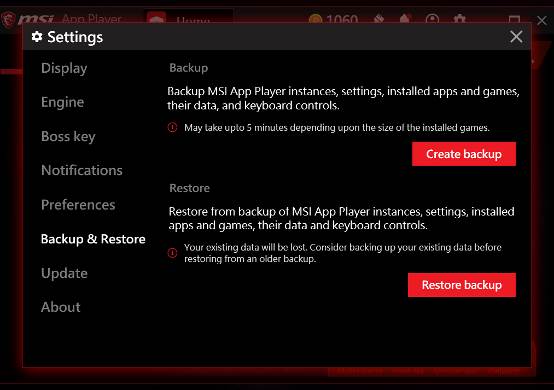 ↑The backup contains MSI APP Player Setting, installed apps or games and their data,
keyboard controls and restoring them in MSI APP Player.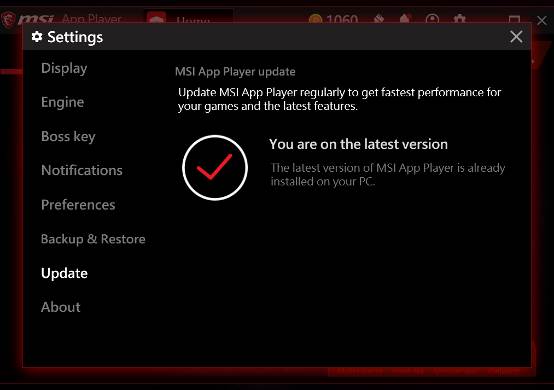 ↑User can check whether latest MSI APP Player version is available.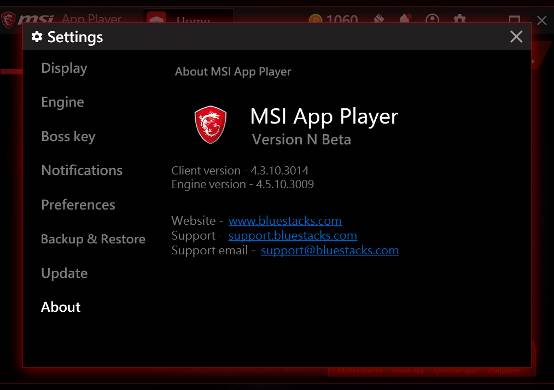 ↑The MSI APP Player in exclusive collaboration with BlueStacks
MSI APP Player lets user create multiple instances so user can play multiple apps / games simultaneously on msi gaming notebook, or play multiple instances of the same game using the same or different accounts in each instance.
I have been personally using MSI APP Player for quite a while and found it to be one of the most simple yet intuitive emulators out of the lot. The convenience of switching between my windows 10 PC and my android phone environment is why I started using this.
Having an MSI powerful gaming notebook with plenty of RAM and a powerful 8th Gen. Intel i7 processor means a user will get good performance from MSI APP Player.
MSI APP Player is ready to offer mobile gamers a boosted gameplay, creating a truly seamless gaming experience between mobile and PC.
User may download the latest version of APP player software in MSI official download page.
More info: https://www.msi.com/Landing/appplayer