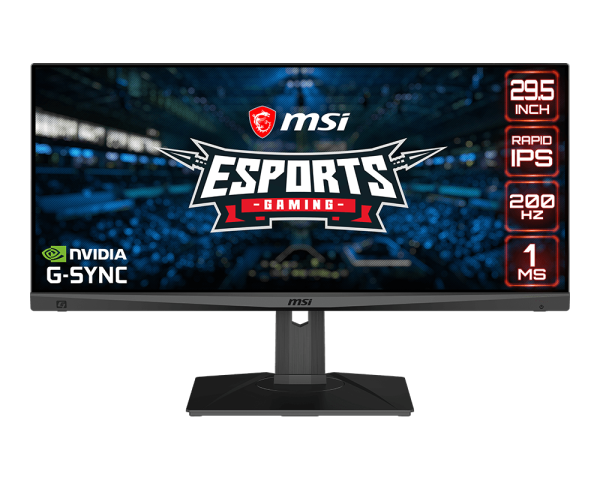 Rapid IPS – Provides 1ms GTG fast response time, optimizes screen colors and brightness.

FHD High Resolution – Games will look even better, displaying more details.

200Hz Refresh Rate – Respond faster with smoother frames.

1ms GTG Response Time – Eliminate screen tearing and choppy frame rates.

NVIDIA G-Sync Compatible – Prevent screen tearing or stuttering, producing ultra-smooth lag-free gameplay.

Gaming OSD App – Create the perfect viewing settings for your games.

Adjustable Stand – Easily change the position of the monitor for maximum ergonomics.

HDR Ready – Stunning visuals through contrast and shadow adjustment.

Night Vision – Smart black tuner to brighten your day by bringing out the fine details in dark areas.

Mystic Light – The ultimate gaming finish.

Wide Color Gamut – Game colors and details will look more realistic and refined.
WIDTH MATTERS
The MSI Optix MAG301RF 21:9 ultrawide Gaming monitor is built to step your game up by giving you extra POV to enhance your peripheral vision. With a 2560×1080 resolution and a 21:9 aspect ratio, enjoy the latest AAA title games the way it was meant with gorgeous details that span across your entire peripheral view.
200HZ REFRESH RATE + 1MS GTG RESPONSE TIME
Optix monitors are equipped with a 200hz refresh rate and 1ms GTG response time Rapid IPS panel which has the most benefit in fast moving game genres such as first person shooters, fighters, racing sims, real-time strategy, and sports. These type of games require very fast and precise movements, which an ultra-high refresh rate and fast response time monitor will put you ahead of your competition.
FIRMWARE UPDATE
MSI Optix series gaming monitors can update the firmware through a USB connector, which is simple and easy to use. This allows users to update the firmware on their own at any time when the latest version is released by MSI. This ensures that the screen is always in the best-optimized state.
PERFECTION FOR ANY REFRESH RATE
Take on any game without tearing, stuttering, flicker, or artifacts. G-SYNC compatible dynamically matches the refresh rate of the display to the frame rate of the GPU. Unlike other solutions, its unrestricted refresh rate supports from zero Hertz up to the maximum supported by the LCD panel—so you can count on exceptional performance in every game.